Biography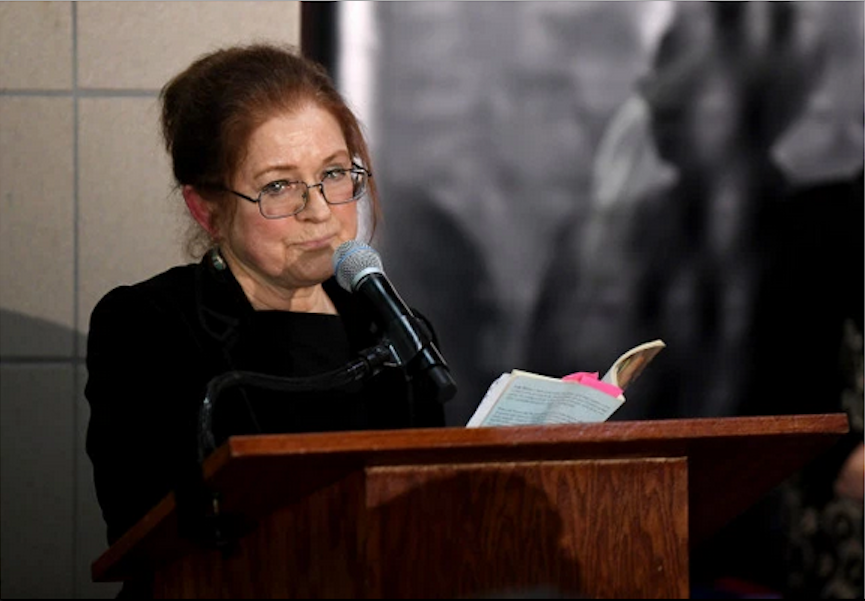 Born in Hollywood, California, Leslie Monsour grew up in Mexico City, Chicago, and Panama. She was educated at Scripps College in Claremont California, Canal Zone College in Panama, and received her BA in English literature at the University of Colorado in Boulder with a minor in Hispanic literature.

Monsour has been a reference assistant at the Huntington Library in Pasadena, California, a news reporter for Pacifica radio, a book critic for the Los Angeles Herald Examiner, and a research consultant for documentary films. She has been a poetry instructor for the bilingual and gifted programs of the Los Angeles school system and the Writers' Program at U.C.L.A. Extension, and has taught master classes in poetry for the College of Creative Studies at the University of California at Santa Barbara, the Extension program of U.C. Berkeley, The English Departments of El Camino and East Los Angeles Colleges, the PEN Center USA Emerging Voices program, and the alumnae of Scripps College.

Publications include: Books: Earth's Beauty, Desire, & Loss, R.L. Barth 1998; Indelibility, Aralia Press 1999; Travel Plans, R.L. Barth 2001; The Alarming Beauty of the Sky, Red Hen Press 2005; The House Sitter, Finishing Line Press 2011; Rhina Espaillat: A Critical Introduction, Story Line Press 2013; The Colosseum Critical Introduction to Rhina P. Espaillat, Franciscan University Press, 2021. Anthologies: A Formal Feeling Comes. Poems In Form By Contemporary Women, Story Line Press; Visiting Emily: Poems Inspired by the Life and Work of Emily Dickinson, University of Iowa Press; Northern Music. Poems About and Inspired by Glenn Gould, John Gordon Burke, Publisher; Mischief, Caprice, & Other Poetic Strategies, Red Hen Press; The Paradelle, Red Hen Press; California Poetry from the Gold Rush to the Present, Heyday Press; Between Worlds, 5th edition, Pearson Education, Inc.; Rhyming Poems. A Contemporary Anthology, Univ. of Evansville Press; Poetry Daily Essentials, 2007, Sourcebooks, Inc.; The Able Muse Anthology, Able Muse Press; The Woman in this Poem. Women's Voices in Poetry, Plumleaf Press, 2015. Mrs. Nelson's Class, World Enough Writers, 2017. Love Affairs at the Villanelle, Kelsay Books, 2018. Choice Words. Writers on Abortion, Haymarket Books, 2020. Extreme Sonnets, Rhizome Press, 2020. Extreme Formal Poems, Rhizome Press, 2021. Powow River Poets Anthology II, Introduction by Leslie Monsour, Able Muse Press, 2021. Outer Space. 100 Poems, Cambridge University Press, 2022. Journals: The Birmingham Poetry Review, Hellas, The Lyric, The Plum Review, Fourteen Hills, Pivot, Schuylkill Valley Journal of the Arts, The Dark Horse, The Formalist, Able Muse, Edge City Review, Iambs & Trochees, Measure, Mezzo Cammin, Cadenza, Raintown Review, Chimaera, First Things, String Poet, The Rotary Dial, American Arts Quarterly, Alabama Literary Review, Light, Literary Matters, The Orchards, Pratik, Los Angeles Review of Books, and Poetry.

The journalist, Brendan Bernhard, highlighted Monsour's work in his award-winning LA WEEKLY article on Los Angeles poets, reprinted by Red Hen Press in the 2003 volume of essays, The Misread City. New Literary Los Angeles. In addition, Monsour's poems have been included several times in Poet Laureate, Ted Kooser's nationally syndicated newspaper column, "American Life in Poetry," and Garrison Keillor's NPR radio program, "The Writer's Almanac," as well as interviews and readings over the airwaves of KPFA in Berkeley and KPFK in Los Angeles.

A featured speaker at West Chester University's annual poetry conference in West Chester, Pennsylvania, as well as the Poetry by the Sea conference in Madison, CT, and various bookstores and libraries in Los Angeles and New York, Leslie Monsour addresses topics of rhyme, meter, form, metaphor, theme, translation, and publishing, in her own work as well as that of Sor Juana Inés de la Cruz, Emily Dickinson, Robert Frost, Richard Wilbur, Edgar Bowers, and Rhina P. Espaillat. In April, 2003, she and the poet, Timothy Steele, organized and hosted "Otherwise We Fall into Prose: Formal Poetry in California," a colloquium held at the Huntington Library in Pasadena, CA. In the same year, she presented "Punished Happiness: Themes of Change and Loss in the Poetry of Edgar Bowers" for a tribute to the late poet held at UCLA. In May of 2011, Monsour was invited to lecture on her translations of the sonnets of Sor Juana Inés de la Cruz for a conference held at Cal State L.A. She presented a paper as well as music at Word Up Community Bookshop in New York City for an October, 2019 symposium on the work of Rhina P. Espaillat.
Her critical essays on the poets Sor Juana Inés de la Cruz, Gwendolyn Brooks, Robert Frost, Richard Wilbur, Rhina Espaillat, Dana Gioia, Adam Kirsch, and Robert B. Shaw are published in the journals, Mezzo Cammin, Literary Matters, Huntington Frontiers, Able Muse, Light, Edge City Review, Los Angeles Review of Books, and Alabama Literary Review. She has been an independent scholar at the Huntington Library in San Marino, California, and serves as Poet Laureate of Laurel Canyon for the Laurel Canyon Association.

Monsour has been nominated for five Pushcart Prizes, and, in 2007, was the recipient of a Fellowship in Literature from The National Endowment for the Arts. In 2020, she received the Shakespeare Poetry Award from the Torrance Performing Arts Consortium. Her collection, The House Sitter, was awarded First Prize in the 2010 Finishing Line Press Open Chapbook Competition.
Monsour and her husband reside in the Hollywood Hills of Los Angeles. They have two sons.